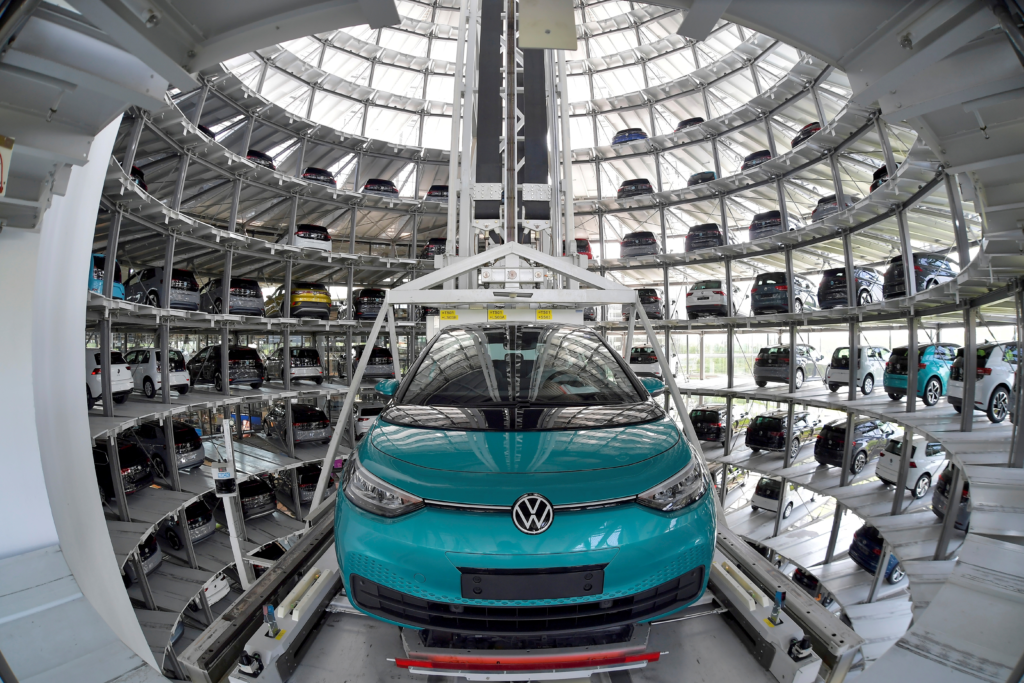 In a strategic move towards electrification, Volkswagen, an automotive giant with a legacy spanning over eight decades, is recalibrating its production strategy. The focal point of this shift lies at the German plant responsible for crafting the acclaimed ID.3 electric vehicles (EVs).
This decision, laden with implications for both Volkswagen and the broader EV market, marks a pivotal moment in the automotive industry's transition to sustainable mobility.
The Evolution of Volkswagen's Electric Vision
Volkswagen's commitment to electrification was first pronounced with its ambitious "Roadmap E" initiative in 2017. This forward-looking plan aimed to bring over 50 electric models to the market by 2025. At the heart of this electrification drive was the ID.3, the first offering from Volkswagen's dedicated electric ID family.
ID.3: A Game-Changer in Electric Mobility
The ID.3, introduced in 2019, was a watershed moment for Volkswagen. Positioned as a mass-market electric vehicle, the ID.3 garnered widespread acclaim for its blend of cutting-edge technology, impressive range, and accessibility. Its modular MEB platform represented a paradigm shift in electric vehicle design, underpinning a new era of sustainable transportation.
German Plant: Birthplace of ID.3 Excellence
The Zwickau plant in Germany, historically known for producing conventional internal combustion engine (ICE) vehicles, underwent a monumental transformation to become the epicenter of Volkswagen's EV revolution. With a staggering investment of €1.2 billion, the facility was reengineered to focus exclusively on electric vehicle production, symbolizing a resolute commitment to a greener future.
The Shift in Strategy
However, recent announcements from Volkswagen indicate a significant shift in its electric vehicle production strategy. The Zwickau plant, which once exclusively manufactured electric vehicles, is slated to reintroduce the production of combustion engine vehicles alongside its EV counterparts. This move is part of Volkswagen's broader strategy to balance its production capabilities to meet dynamic market demands.
Factors Driving the Strategic Pivot
Several factors have contributed to this strategic recalibration:
Market Demand Fluctuations: The demand for electric vehicles, while steadily growing, is subject to market fluctuations. By reintroducing the production of conventional vehicles in tandem with EVs, Volkswagen aims to maintain flexibility and agility in adapting to changing market trends.
Optimizing Production Capacities: Given the vast scale of operations at the Zwickau plant, utilizing its full capacity is essential for achieving operational efficiency. Integrating both EVs and traditional vehicles enables Volkswagen to make the most of its production capabilities.
Global Supply Chain Considerations: The global supply chain, crucial to automotive manufacturing, has faced disruptions due to various factors, including the ongoing semiconductor shortage. By diversifying production, Volkswagen seeks to mitigate potential supply chain vulnerabilities.
Transition Period to Full Electrification: While the transition to electric mobility is inevitable, it remains a phased process. Reintroducing the production of traditional vehicles offers a bridge during this transitional period, allowing Volkswagen to cater to diverse consumer preferences.
Impact on ID.3 Models and Beyond
The decision to reintegrate combustion engine vehicle production at the Zwickau plant raises questions about its impact on the ID.3 models and the broader electric vehicle market.
Firstly, it's important to note that the ID.3 remains a critical component of Volkswagen's electric vehicle lineup. The plant's dual-production approach is anticipated to enhance the availability of ID.3 models, potentially meeting higher demand levels without compromising on the brand's commitment to sustainability.
Moreover, this strategic pivot by Volkswagen does not diminish its commitment to electric mobility. Instead, it reflects the pragmatic approach required in navigating the complex landscape of automotive production and transitioning to a sustainable future.
Conclusion
Volkswagen's decision to reintegrate combustion engine vehicle production at its Zwickau plant signifies a dynamic approach to the evolving landscape of electric mobility. While the shift may raise eyebrows, it underlines the need for adaptability and flexibility in an industry undergoing unprecedented transformation. The ID.3 and its electric counterparts remain pivotal in Volkswagen's journey towards sustainable transportation, and this strategic pivot reaffirms the brand's commitment to delivering innovative solutions for the future of mobility.